According to survey results, the average office lux between 200 ~ 4001x. This office commonly used in customer service centers and technical offices for a class of open office space, therefore, in lighting, for all surfaces to do a comprehensive and uniform illumination as possible, so that all workstations can be fully efficient lighting in order to carry out jobs. Lighting should be conducive to the physical comfort of employees and generates health, safety, alert and feeling. General office lighting design should be on both sides of the work area, and should enable the use of fluorescent lamps when the longitudinal axis parallel to the horizontal line of sight. It should not be arranged in front of the fixture working position. Main lighting LED panel lights can be used or LED lamps.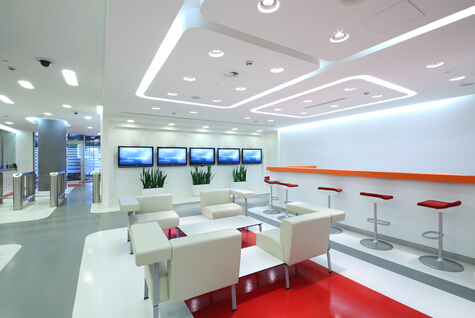 Compartment offices
Compartment offices often an officer's office. As office manager often reflects the manager's taste and personality, high-quality furniture, artwork and other decorations, as colleagues and business prospects paint a picture of success. And in the office were more general task is to talk to the class, and the development of various decisions for the company. On the lighting requirements should meet minimum above the desk 300LX illumination, lighting parlor area needs a little soft, 200LX is better. Can be 3W or 5W of LED down light or LED spotlights. Mountable power LED lights on the ceiling.
Conference room
Meeting Room lighting should consider lighting as the main square conference table lighting. Engender center and feel focused. Illumination to the right, plus set up around the auxiliary lighting. According to the findings of the conference room illumination, most average between 200 ~ 4001x, average is 3581x, the original standard upscale to 2001x, and CIE standards and in some countries more than between 300 ~ 5001x.
Office aisle
Office aisle area and office area illumination to illumination reasonable transition, illumination control in about 200LX. LED down lights can be used, or use hidden LED lights with a combination of methods, avoid the use of smooth reflector.
Lounge and reception
Lounge and reception is equivalent to the company's "business card", the first impression is very important, lighting can help these offices to achieve the desired effect, light atmosphere to ease the main, or you can use LED down light LED ceiling light.